Stations of the Cross Chaplet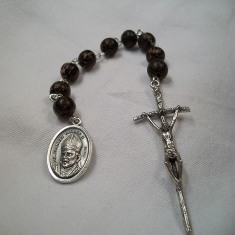 The Stations of the Cross Chaplet is a devotional tool that helps us to meditate on the sufferings of Our Lord. This devotion dates back to the 15th century.

These are the Stations:
1. Jesus is condemned to death
2. Jesus is given His Cross
3. Jesus falls the first time
4. Jesus meets His Mother
5. Simon of Cyrene carries the Cross
6. Veronica wipes the face of Jesus
7. Jesus falls the second time
8. Jesus meets the daughters of Jerusalem
9. Jesus falls the third time
10. Jesus is stripped of His garments
11. The Crucifixion
12. Jesus dies on the Cross
13. Jesus' body is removed from the Cross
14. Jesus is laid in the tomb and covered in incense.
This chaplet features tiger ebony beads, and it includes prayer instructions. This one-of-a-kind chaplet was handmade by one of the co-owners of Our Catholic Corner.
$37.95 + Free S&H